January 31st, 2023 – posted by kiwi
Stripe
Beside Paypal, it's now also possible to donate via Stripe. Thanks to yun for suggesting this payment service! :) And also thanks to all our supporters. Today we (nearly) reached 50% of the 2023 server costs.
---
January 30th, 2023 – posted by kiwi
Supporter badge
Maybe you saw this small golden crown in front of some usernames already? This is an exclusive badge for our supporters, visible at areas like the user profile or the "Last comments" section. If you also would like to get this badge, visit our donation page, and get a Re-Volt World supporter.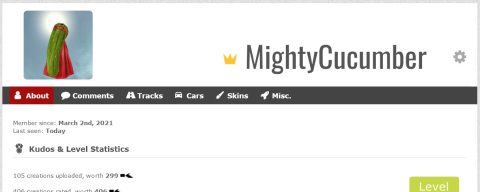 ---
January 24th, 2023 – posted by kiwi
Added 2FA support
It's now possible to active two factor authentication (in short 2FA) to your Re-Volt World account. This will an extra layer of security to your account. In order to activate 2FA you need a 2FA app. The most popular ones are Authy and Google Authenticator. You can active 2FA in your Re-Volt World Account Settings.
---
January 18th, 2023 – posted by kiwi
Top-List Change
The Top-List calculation was further enhanced. From today on it's necessary for creations to be listed in the Top-List, to have a minimum of 14 votings. Before this change, 12 votings was necessary. With this change the overall quality of the Top-List should get even better.
---
December 21st, 2022 – posted by kiwi
Member since/Last seen – Update
The "Member since/Last seen" section on the user profiles got slightly adjusted. From today on this section show the exact day, month and year – and not only month and year. In addition, the dates will also use the words "yesterday" or "today", if applicable.
---
November 30th, 2022 – posted by kiwi
Member since/Last seen
Added "Member since" and "Last seen" information to the user profiles. The information show right above the Kudos and Level Statistics section. If the selected user is a dummy-user (users with no real user account – needed for old creations), only the date when the dummy-user was created will show. The "Last seen" date will be recorded and stored in our database since August 2022. If the user was last online before this date, it will show "Too long ago…" instead of a date.
---
November 29th, 2022 – posted by kiwi
Added Changelog
Since today you can follow the progress in Re-Volt World's development by having a look at the Changelog. Every change or new feature will be documented here with a short description and (if needed) some screenshots. Big news may be announced on Re-Volt World's frontpage in addition.
---
November 28th, 2022 – posted by Norfair, in the name of the Re-Volt World Administration team
Discord server closed
The Re-Volt World Discord Public Server has come to its end. Initially, it had the goal of helping us by reporting bugs and suggesting features for the website. The last few months we had to deal with so many annoying matters caused by it, it was a detriment to our work. We are tired of it, and we want to spend more time bringing new features, moderating content and polishing our website to make the best of it possible. As a replacement for bug reporting possibilities, event voting and news announcements, we will try to implement functions directly on the website very soon.