August 5th, 2022 – Hello, Re-Volters!
People had the chance to vote on their favourite Re-Volt World Open 2022 entries now for about one week. Now it's time to reveal the winners!
Thanks to everyone who contributed to the voting process. Every person had the possibility to vote for the entries by using the emojis for "cool", "beautiful", "fun", and "innovative". The entries with the most votings per category win the category.
In addition, there is an overall winner, which is the entry which got the most votings across all categories.
And here are the results!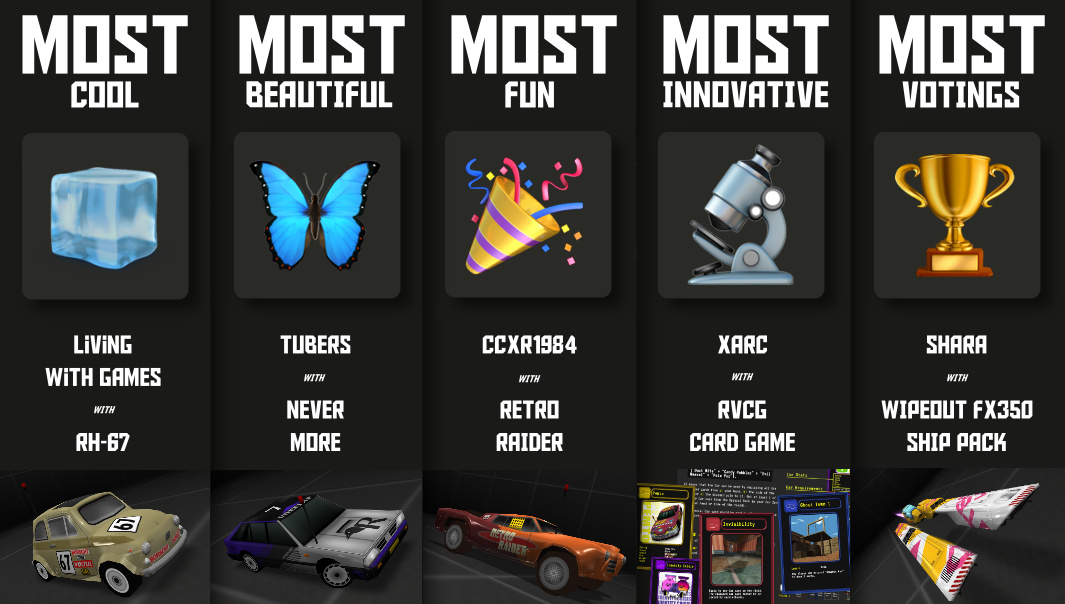 Congratulations to the winners!
Here are the overall results:
Category "Coolest Entry":
RH-67 by LivingWithGames – 24 Votes
Wipeout FX350 Ship Pack by Shara – 21 Votes
Sidewinder by Brotato The Badass Spud – 20 Votes
Retro Raider by ccxr1984 – 18 Votes
Titan CV by Ghoster – 17 Votes
Gungnir by TTDriver – 16 Votes
Hamadryas Amphinome by polarfox_cw – 16 Votes
Truck-kun by Phimeek – 14 Votes
New Speedometer by actualtoaster – 14 Votes
Nevermore by Tubers – 13 Votes
Whiskers by Trixed – 13 Votes
Alleyways Basic by Powerate – 12 Votes
RVCG Card Game by Xarc – 11 Votes
Big Shot! by Durtvan – 10 Votes
Solstice by Ajax9312 – 9 Votes
Antigrav SC Pack by Keyran – 7 Votes
Inverted by Paperman – 7 Votes
Re-Volt Hardcore by Ahma and Erzu – 7 Votes
Wasteland 2 by FK02 – 7 Votes
Beehive Valley Challenges – Vol.1 by Kiwi – 6 Votes
Toys in the Hood Night Pack by Chris – 5 Votes
Category "Most Beautiful":
Nevermore by Tubers – 20 Votes
Whiskers by Trixed – 19 Votes
Wipeout FX350 Ship Pack by Shara – 18 Votes
Gungnir by TTDriver – 18 Votes
Toys in the Hood Night Pack by Chris – 17 Votes
Big Shot! by Durtvan – 17 Votes
Truck-kun by Phimeek – 15 Votes
New Speedometer by actualtoaster – 13 Votes
Titan CV by Ghoster – 12 Votes
Retro Raider by ccxr1984 – 10 Votes
Sidewinder by Brotato The Badass Spud – 6 Votes
Alleyways Basic by Powerate – 6 Votes
Solstice by Ajax9312 – 6 Votes
Hamadryas Amphinome by polarfox_cw – 6 Votes
RVCG Card Game by Xarc – 5 Votes
Antigrav SC Pack by Keyran – 5 Votes
Inverted by Paperman – 4 Votes
Wasteland 2 by FK02 – 4 Votes
RH-67 by LivingWithGames – 3 Votes
Beehive Valley Challenges – Vol.1 by Kiwi – 3 Votes
Re-Volt Hardcore by Ahma and Erzu – 1 Vote
Category "Most Fun":
Retro Raider by ccxr1984 – 20 Votes
Gungnir by TTDriver – 18 Votes
RVCG Card Game by Xarc – 17 Votes
Truck-kun by Phimeek – 16 Votes
Beehive Valley Challenges – Vol.1 by Kiwi – 14 Votes
Wipeout FX350 Ship Pack by Shara – 13 Votes
Solstice by Ajax9312 – 12 Votes
RH-67 by LivingWithGames – 11 Votes
Alleyways Basic by Powerate – 11 Votes
Nevermore by Tubers – 10 Votes
Sidewinder by Brotato The Badass Spud – 10 Votes
Titan CV by Ghoster – 9 Votes
Antigrav SC Pack by Keyran – 9 Votes
Toys in the Hood Night Pack by Chris – 8 Votes
Re-Volt Hardcore by Ahma and Erzu – 6 Votes
Whiskers by Trixed – 5 Votes
Inverted by Paperman – 4 Votes
New Speedometer by actualtoaster – 2 Votes
Hamadryas Amphinome by polarfox_cw – 2 Votes
Wasteland 2 by FK02 – 1 Vote
Big Shot! by Durtvan – 0 Votes
Category "Most Innovative":
RVCG Card Game by Xarc – 27 Votes
Inverted by Paperman – 22 Votes
Wipeout FX350 Ship Pack by Shara – 18 Votes
Antigrav SC Pack by Keyran – 17 Votes
Re-Volt Hardcore by Ahma and Erzu – 17 Votes
New Speedometer by actualtoaster – 15 Votes
Beehive Valley Challenges – Vol.1 by Kiwi – 12 Votes
Gungnir by TTDriver – 6 Votes
Truck-kun by Phimeek – 6 Votes
Titan CV by Ghoster – 5 Votes
Nevermore by Tubers – 4 Votes
Sidewinder by Brotato The Badass Spud – 4 Votes
Retro Raider by ccxr1984 – 2 Votes
RH-67 by LivingWithGames – 2 Votes
Whiskers by Trixed – 2 Votes
Toys in the Hood Night Pack by Chris – 1 Vote
Alleyways Basic by Powerate – 1 Vote
Solstice by Ajax9312 – 1 Vote
Big Shot! by Durtvan – 1 Vote
Wasteland 2 by FK02 – 1 Vote
Hamadryas Amphinome by polarfox_cw – 0 Votes
Category "Most Total Votings":
Wipeout FX350 Ship Pack by Shara – 70 Votes
RVCG Card Game by Xarc – 60 Votes
Gungnir by TTDriver – 58 Votes
Truck-kun by Phimeek – 51 Votes
Retro Raider by ccxr1984 – 50 Votes
Nevermore by Tubers – 47 Votes
New Speedometer by actualtoaster – 44 Votes
Titan CV by Ghoster – 43 Votes
Sidewinder by Brotato The Badass Spud – 40 Votes
RH-67 by LivingWithGames – 40 Votes
Whiskers by Trixed – 39 Votes
Antigrav SC Pack by Keyran – 38 Votes
Inverted by Paperman – 37 Votes
Beehive Valley Challenges – Vol.1 by Kiwi – 35 Votes
Re-Volt Hardcore by Ahma and Erzu – 31 Votes
Toys in the Hood Night Pack by Chris – 31 Votes
Alleyways Basic by Powerate – 30 Votes
Big Shot! by Durtvan – 28 Votes
Solstice by Ajax9312 – 28 Votes
Hamadryas Amphinome by polarfox_cw – 24 Votes
Wasteland 2 by FK02 – 13 Votes