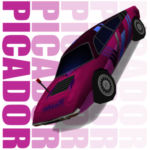 This user account status is Approved
This user has not added any information to their profile yet.
44 creations uploaded, worth 80

235 creations rated, worth 235

4 comments given, worth 8

6 event categories attended, worth 150

Level 4 with a Total of 473

Needs 127

more to reach Level 5.
Personal information

France
Singleplayer, Multiplayer, Car Creator
Adeon, Toyeca, SNW35, Volken Turbo
Cliffside Court, RC Dream Enduro, Botanical Garden, Helios, Quake!
Links & Contact