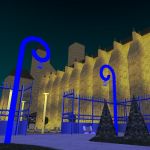 This user account status is Approved
This user has not added any information to their profile yet.
10 creations uploaded, worth 50

187 creations rated, worth 187

14 creations commented, worth 28

3 event categories attended, worth 125

Level 4 with a Total of 390

Needs 210

more to reach Level 5.
Personal information
I study in one of my tracks. That's great!
Go to the Tracks section to see all my tracks.

France
Singleplayer, Track Creator
Stock: Pole Poz, Custom: Megalodon XL
Stock: Toys in the Hood 2, Custom: Spa-Volt 1
Links & Contact