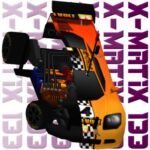 This user account status is Approved
This user has not added any information to their profile yet.
Often called Ziggy, sometimes FZG.
=This is a cooler and well managed site tbh, i really love the UX, great job!=
Usually makes liveries and remodels for some cars that caught my attention, sometimes makes RC replica with chassis and inside parts. Making them to fulfill my love for toy cars and RCs, because i can't afford them.
Anyways, if you wanna collab, just holler at me on discord or my email perhaps.
Additional Information
Singleplayer, Multiplayer, Car Creator
Links & Contact