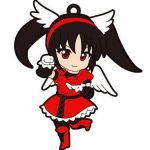 This user account status is Approved
This user has not added any information to their profile yet.
Member since: June 11th, 2022
Last seen: Too long ago... :(
5 creations uploaded, worth 21

0 creations rated, worth 0

0 comments given, worth 0

0 event categories attended, worth 0

Level 2 with a Total of 21

Needs 79

more to reach Level 3.
Personal information
Previous aliases were "ChrisElston" and "elston87"
Call me Kuri. I work as a video encoding specialist, but I like to tinker with technology and video games from time to time. Huge fan of Sega, Twisted Metal and Re-Volt; all three were major parts of my childhood.
Used to be a "content creator" of slipshod things like lazy no-effort repaints and step-tree conversions with little attention to detail. You can probably still find my old "creations" on Re-Volt Zone by searching for my two previous aliases; feel free to cringe at them with me. Trying to learn about the basics of 3D modeling in my free time when I'm not busy.

United States
Singleplayer, Car Creator, Track Creator
Clockwork, BigVolt, Evil Weasel
Links & Contact