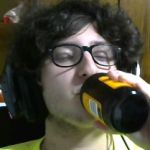 This user account status is Approved
This user has not added any information to their profile yet.
Member since: December 18th, 2021
Last seen: March 22nd, 2023
2 creations uploaded, worth 4

1 creations rated, worth 1

0 comments given, worth 0

0 event categories attended, worth 0

Level 1 with a Total of 5

Needs 5

more to reach Level 2.
Personal information
A somewhat chill guy addicted to DnB that wants to go to med school. Will update in the Autumn of 2022 if I do get accepted. For now, gotta keep learning, but also play stuff in the free time that I have. Yes, the guy in the photo was me in early 2020, I've drastically changed since then but I don't have a better meme-y photo, so this should do.

Romania
Reddlum, Prototype FX77, control cars in general
Original Game: Supermarket 1, I/O: Spa-Volt 1?
Links & Contact