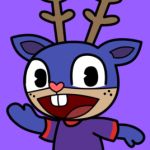 This user account status is Approved
This user has not added any information to their profile yet.
0 creations uploaded, worth 0

0 creations rated, worth 0

1 commented given, worth 2

0 event categories attended, worth 0

Level 1 with a Total of 2

Needs 8

more to reach Level 2.
Personal information
[I was going to register as danylopez123 as my actual username but i've messed up my email part and i had to put my username ending with an 1994]
Hello and Greetings from Spain!
I'm danylopez123
A long time ago, back in my old PC when i was also using Gameranger, i used to play Re-Volt when a friend told me about it.
Since then, i've been playing Online races with Gameranger with everyone + i did also modded the game with custom cars and tracks from the outdated Re-Volt Zone.
Then, the years have passed, i've wanted to go back to Re-Volt now that i got a way better PC, i've discovered this RVGL and with everything it haves, i was very impressed with it since it's launcher it's also like a mod manager.
I am glad seeing Re-Volt still up-to-date thanks to the community.
I might not be a modeler to make cars or tracks, but i can kinda make custom sounds or something, if i can come up with something, i might have something to upload.
I do also have a Youtube channel but, it's Spanish only, unless you are Spanish or you do understand Spanish, you are free to check it out.
I also have a Twitter but, not related to my Youtube channel, so it's in English.

Spain
Singleplayer, Multiplayer
Links & Contact