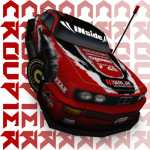 This user account status is Approved
This user has not added any information to their profile yet.
Member since: October 2nd, 2022
Last seen: Yesterday
11 creations uploaded, worth 88

23 creations rated, worth 23

8 comments given, worth 32

2 event categories attended, worth 35

Level 3 with a Total of 178

Needs 122

more to reach Level 4.
Personal information
Silverfang Performance Engineering (SPE) specializes in enhancing the speed of cars, specifically modifying RC cars from various brands. On occasion, we even make high-speed but pricey cars more accessible to consumers.

Ukraine
Singleplayer, Multiplayer, Car Creator
Many of them, but not many at the same time
Many of them, but not many at the same time
Re-Volt; FlatOut (1, 2 and UC); NFS (all from Underground to The Run / Shift 2 and Rivals); DOOM (2016/Eternal); GTA IV; TES V Skyrim; etc.
Links & Contact